WELCOME TO DANIEL SAUR.COM
Here you can find some info about me and my music.
Please enjoy!
CONCERTO FOR MARIMBA AND ORCHESTRA
Finally it is time for the world premiere of my marimba concerto.
In two weeks the Norrbotten Chamber Orchestra starts the rehearsals in Studio Acusticum, Piteå.
I'm filled with anticipation to hear the final result, but also a bit nervous since I will play the solo part as well. The French conductor
Pierre-André Valade will hold the baton.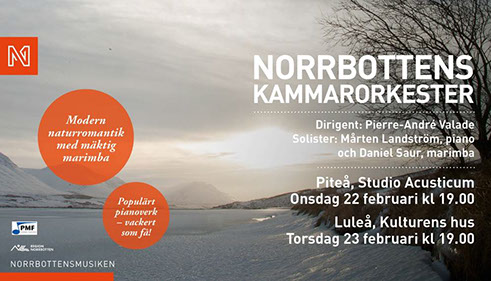 The Concerto is commissioned by the Norrbotten Chamber Orchestra and is scored for a smaller orchestra (2222 2200 pno timp 2perc str).
Here is a photo of the sheet music as they where still warm from the printing house.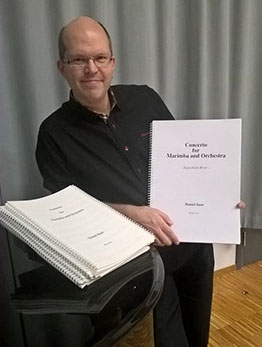 _______________________________________________________________
2017: 10 years Jubilee with Norrbotten-NEO
We will perform carefully chosen highlights from our first decade.
You will find pieces by Saariaho, Czernowin, Donatoni and Wallin to mention a few. A highly energetic concert.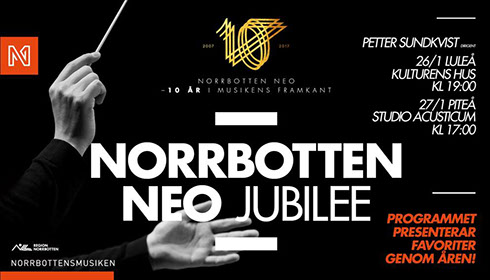 _______________________________________________________________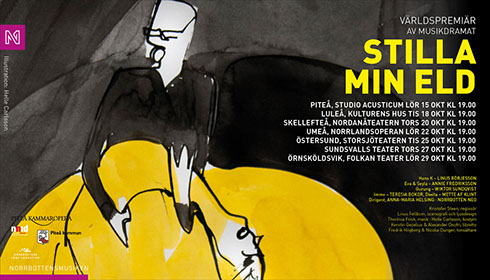 During the month of October we rehearsed and performed our annual Chamber Opera. This year it was the opera "Stilla min Eld" by composer Fredrik Högberg.
The opera was as huge success, acclaimed by both the audience and the critics, with seven performances in all four northern regions of our country.
Here is a live picture of me and my percussion set-up during the show in Black Box, Piteå.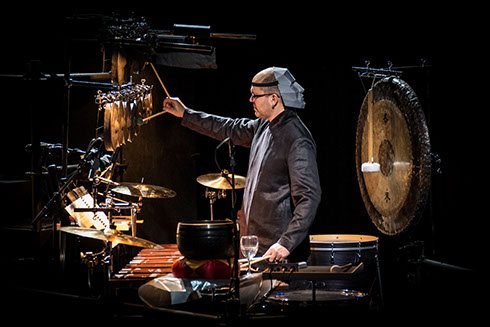 2018-06-05 at 8:00 PM
Norrbotten-NEO at "KLANG" festival
at Koncertkirke, Köpenhamn
2018-06-19 at 10:00 PM
Norrbotten-NEO & David Väyrynen
during "Festspelen i Piteå"
at 2 Kök, Acusticum, Piteå
Copyright © 2014-2018 Daniel Saur